New this Week – Improv Comedy Show at 3pm Sunday, 1pm Sunday Comedy 4 Teens Class.
Purchase discount ticket/admission, arrive at least 30-45 minute before showtime. Sh0ws will sell out and late guests are not guarenteed a seat. There is a TWO drink minimum per guest
Greenwich Village Comedy Club
99 Macdougal Street New York, NY 10012
Greenwich Village Comedy Club presents a lineup full of our Top Headliners. These are the best comedians from New York City with special guests from all across the country. You've seen them on MTV, HBO, The Tonight Show, Comedy Central, The Daily Show, Last Comic Standing and more!
THIS WEEKEND LINE-UPS
FRIDAY
9:30PM & 11:30 ALL STAR COMEDY shows
MC Blair Socci Just for Laughs
Eric Nuemann AXS TV
Leah Bonnema VH1 and IFC
Brendon Fitzgibons NBC
Dustin Chafin Showtime Whtie Boyz in the Hood, HBO Crashing
Yannis Pappas Comedy Central Special, Mr. Panos and Maurica
SATURDAY
8:30p, 10:30p 12:30a ALL STAR COMEDY Shows
MC Chris Murphy Comedy Central
Walli Collins Comedy Central, Late Show
Jason Salmon Orange is the New Black
Eric Neumann AXS TV
Yannis Pappas Comedy Central Special
Mike Cannon Comedy Central
SUNDAY
3pm IMPROV COMEDY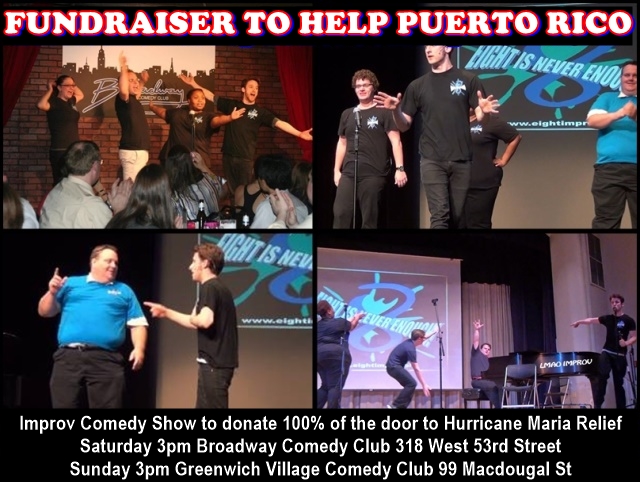 9:30 ALL STAR COMEDY
MC Frisko
Mike Feeney Sirius XM
Ian Fidance College Humor
Anthony Kapfer FoX laughs
Daniel Tirado Just for Laughs, Late Late Show
Dustin Chafin HBO Crashing, SHOWTIME White Boyz in the Hood
Al Martin's name is synonymous with comedy in New York City, and is responsible for launching the careers of many top comedians working today. Martin's first venture in the comedy club business was in 1988 when he established the New York Comedy Club out of a need to help and showcase talented comedians. An accomplished comedian himself, Al was a National Headliner with numerous television credits such as The Joan Rivers Show, Geraldo and Evening At The Improv. Al was always more than just a comedian; he was an activist for the comedy community serving as Vice President of the Professional Comedians Association, and was instrumental in the organization dedicated to bringing health insurance and improving working conditions for comics. Although performing was a love for Martin he found his niche as a comedy club owner. He soon found himself helping his fellow comedians that he had once worked beside. Sarah Silverman, Lisa Lampanelli, Brett Butler, Tracy Morgan and Wanda Sykes are just a few comedians who have graced his stages over the years. New York Comedy Club became the first comedy club with two showrooms in 1997. Al was one of the first club owners to embrace diversity in the comedy world by establishing the first Latino Comedy Night at New York Comedy Club. He's also facilitated and welcomed to his stage shows featuring gay, urban and Asian communities. In 2000 Martin opened New York Comedy Club in Boca Raton, which he ran successfully until late 2006. With the success of two clubs Al decided to expand his brand and in 2003 opened Broadway Comedy Club, located in the heart of Times Square. Martin again took a risk in opening Broadway Comedy, the only bi- level entertainment complex with three showrooms in NYC, serving over 600 comedy lovers from around the world nightly. In 2005 he partnered with Barry Katz, executive producer of NBC's Last Comic Standing to run Boston Comedy Club, giving Martin the bragging rights to being the first person to run three comedy clubs in New York City. In the Summer of 2012 Martin expanded his comedy ventures into Greenwich Village, in New York City with the opening of Greenwich Village Comedy Club, from day one the club has been filled every night with a lively downtown crowd and top comedians making them laugh! Martin's clubs attract comedy fans from around the world including some of the biggest celebrities from Jay-Z & Beyonce, Andre Aggasi, Jimmy Fallon, Montel Williams, and Harry Connick Jr. On stage or behind the scenes, Al Martin will go down in history as the King of New York Comedy. Martin is a brilliant thinker and innovator of his time, and has made New York City the World's Capital of Comedy.