If you have not heard of Russ Meneve you do not see enough live comedy, or watch comedy of TV. Your life needs more comedy in it NOW. Russ is one of the top comics working the NYC scene today with a growing list of TV credits – Tonight Show, Conan, HBO, Comedy Central etc
Russ Meneve BIO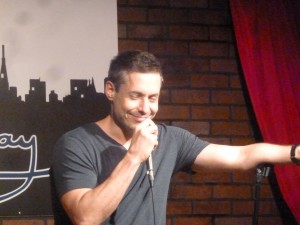 Russ Meneve has been performing comedy in New York for the past 15 years, where he has honed his skills to an edge as sharp as his material. Nowhere was this more evident than on NBC-TV's "The Tonight Show," where Russ recently made his second appearance to rave reviews from host Jay Leno and an appreciative studio audience that he had rolling in the aisles. He was recently feature as one of "The Top Ten Funniest New Yorkers You've Never Heard Of" by New York Magazine.
Among Russ' numerous credits are multiple appearances on "The Tonight Show," "Late Night with Conan O'Brien," HBO's Aspen, Montreal and Las Vegas Comedy Festivals, and his own half hour special on Comedy Central, "Comedy Central Presents – Russ Meneve."
Russ has also been the Lead/Co-Lead/Writer of ten television pilots with NBC, Comedy Central and multiple production companies, co-hosted the XM/Sirius Radio Show, Bad News with Russ Meneve and Robert Kelly, and made multiple appearances on XM's Opie and Anthony Radio Show and Sirius' Raw Dog Comedy. Russ has also been prominently featured in New York Times, LA Times, Penthouse/Playbow Magazines and Time Out New York.
VIDEO
Clips from Comedy Central Presents – Russ Meneve
Catch a live comedy show in NYC tonight!!!